IVECO STRALIS HI-WAY EURO 6 SCR ONLY
Elastyczna oferta i gwarancja spokoju
Twoje IVECO już od 840 euro* miesięcznie
W trzyletnim leasingu operacyjnym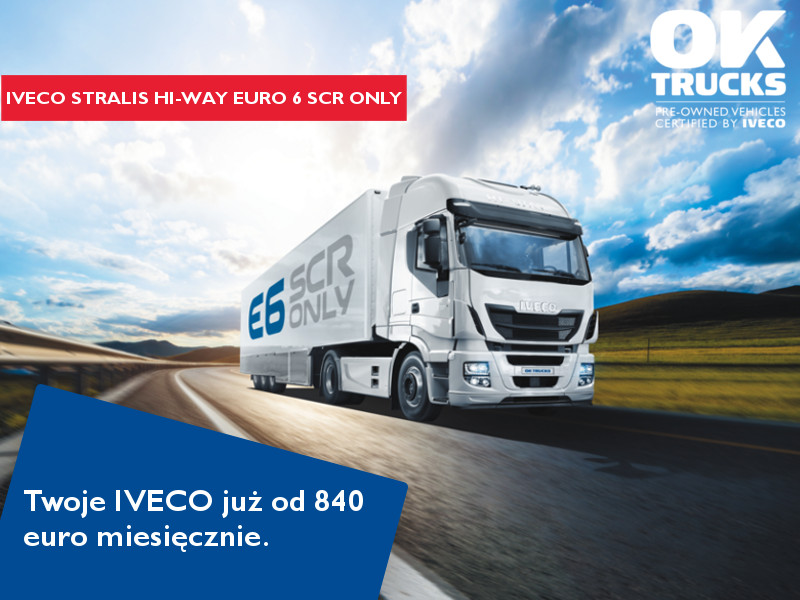 * Rata obejmuje:
* 3-letnią gwarancję na układ napędowy i technologię SCR ONLY
* 3-lernią usługę opieki mobilnej do kwoty 5000 euro w przypadku każdej awarii w trasie
* Pełne ubezpieczenie OC i AC w całym okresie finansowania
*pomoc drogową i holowanie
* Elastyczna oferta najmu 12, 24 i leasingu operacyjnego
dla pojazdów do 4 lat i przebiego 400 000 km
Dostępny także w wersji EEV
* Dotyczy wariantu finansowania w formie leasingu dla okresu 36 miesięcy. Wpłata początkowa 15%, raty miesięczne, limit kilometrów 120.000 km/rok. Rata netto obejmuje kontrakt serwisowy Xtended Life + Mobility Care i ubezpieczenie w całym okresie finansowania. Oprocentowanie zmienne uwzględniające stawkę EURIBOR IM. Gwarancja odkupu producenta. Promocja ważna do wyczerpania zapasów. Promocjo dotyczy wybranych modeli ciągnika siodłowego IVECO Stralis. Powyższe warunki nie stanowią oferty w rozumieniu art. 66 Kodeksu Cywilnego, będąc jedynie wstępną kalkulacją, niestanowiącą zobowiązania do udzielenia finansowania - zależnego m.in. od pozytywnej decyzji kredytowej. Szczegóły u dealerów IVECO. Tekst i ilustracje nie są wiążące.
Wypełnij i wyślij formularz, a nasz zespół skontaktuje się z Tobą tak szybko jak to możliwe.
Subscribe to newsletter
Get notified via e-mail on OK Trucks´ offers and news.